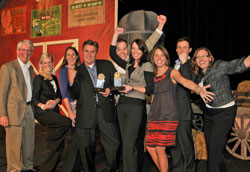 The 2011 Best of NAMA Awards were awarded during the Agri-Marketing Conference. You can find a full listing by AgriMarketing Magazine.
Winning Best of Show were:
Advertising: Winfield Solutions; agency: Colle+McVoy (pictured at the top)
The Best of session was standing room only.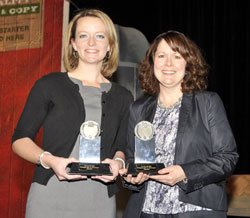 Public Relations: RISE (Responsible Industry for a Sound Environment); agency: Fleishman-Hillard
I want to thank Denny Eilers, Iowa Photo Farm, for once again helping us out with photos. He not only took these but also supplied others you'll find in our photo album.
Here are some summary notes compiled by AgriMarketing Magazine:

A total of 62 awards were presented.
Those with the most first place awards were:
Monsanto: 5
John Deere: 4
Boehringer Ingelheim Vetmedica: 3
Syngenta Seed: 3
Wisconsin Cheese: 3
Chemtura AgroSolutions: 2
Pioneer Hi-Bred: 2
DuPont: 2
RISE: 2
Winfield Solutions: 2
National Cottonseed: 2
Agencies receiving the most first place awards were:
Osborn&Barr Communications: 6
Colle+McVoy: 5
Charleston | Orwig: 4
McCormick Company: 4
Campbell Mithun: 3
Broadhead + Co: 3
Fleishmann Hillard: 3
Harvest PR: 3
Shine Advertising: 3
AdFarm: 2
Woodruff Sweitzer: 2
PSG Marketing Solutions: 2

2011 Agri-Marketing Conference Photo Album